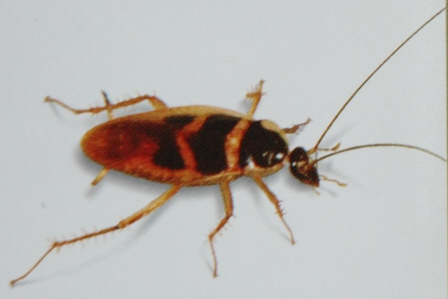 Brown banded cockroaches get their name from the two light bands they have across their dark brownish bodies. The male's wings are larger than the female's wings. Brownbanded cockroaches often hide their eggs in or under furniture. They usually live 5-6 ½ months.
Common Name: Brown-banded cockroach, Color: Brown, with light bands of color across wings, Size: ½ ", Legs: 6, Wings: Yes, Antenna : yes, Class: Insecta, Shape: Oval, Species: Supella Longipalpa, Family: Blattellidae
Lifecycle
Females deposit the ootheca (egg case) containing 16 eggs a day after production.
IOotheca are cemented down and widely scattered.
Eggs Hatch in 1 – 2 months.
Nymphs take 2 – 4 months to develop into adults.
DIET
Brownbanded cockroaches prefer to eat starchy foods, such as wallpaper paste and book bindings. Sometimes they'll eat non-organic things, like nylon stockings!
HABITAT
Brownbanded cockroaches prefer warmer, drier, and higher locations than most cockroaches. While most cockroaches prefer to live in kitchens and pantries, Brownbanded cockroaches will live in any room in the house. They do not need much moisture and avoid light whenever the can.
Habits
Heated buildings; very wide dispersal throughout.
They come out in the night (Nocturnal.)
They are Omnivorous.
IMPACT
Cockroaches crawl through dirty areas and then walk around our homes tracking in lots of bacteria and germs. They can contaminate food by shedding their skins. Their cast off skin and waste byproducts are allergens that can trigger allergic reactions, asthma and other illnesses, especially in children.
PREVENTION
Keep cooking, eating and food storage areas clean and dry.
If you see cockroaches, it is best to call a pest management professional due to the illnesses they can spread.