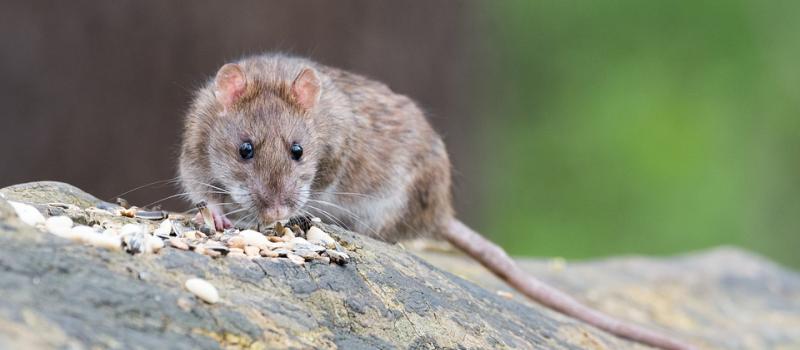 Roof Rats are excellent climbers and get their name because they usually live high off the ground, like on the roof of a building. They have very poor vision and are color blind, but they have extremely strong senses of hearing, smell, touch and taste. Rats have four to six litters a year and each litter has 6 to 12 babies in it. These rats are only pregnant for about 21 to 23 days and they can start reproducing when they are three months old. Common Name: Roof Rat, Size: 16" nose to tail, Shape: Rat, Color: Black, Legs: 4, Wings: No, Antenna: No, Class: Mammalia, Order: Rodentia, Species: Rattus rattus, Family: Muridae
Lifecycle
5 – 10 young per litter; 3 – 6 litters a year.
Gestation period of about 3 weeks.
12 – 16 weeks from birth to sexual maturity.
DIET
Roof Rats prefer eating fruits, berries, vegetables, cereal, pet food, nuts, grain, slugs, snails and rotten food.
HABITAT
Roof Rats are excellent climbers and they usually live in spaces on the tops of buildings, on roofs or in attics. They also live in sheds, garages, boxes, ceilings, under floors, in wood heaps and in thick grass. Habits
Rare in India. Appearance confined mainly to ports.
Often climbs, agile, rarely burrowing and rarely outdoors in India.
Preferred food is moist fruits.
Will eat around 15g of food a day and drink 15ml.
IMPACT
Roof rats cause damage to structures by chewing, eating stored foods and carrying diseases, such as Hantavirus. They are most famous for spreading the highly contagious bubonic plague in the Middle Ages. Rats will also attack both animals and humans. Human babies and even adults have been killed in rat attacks.
PREVENTION
Rats like to eat, so keep your homes clean and do not leave food out.
Make sure that your home and storage areas are clean and dry.
Make sure that you clean your sheds, crawlspaces, and garbage cans often.
Close up any small holes and cracks they can come in through.