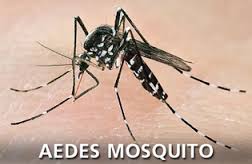 Adult has black and white markings
Larval rest 45 degree from the surface of the water
Habitat – container breeder especially man-made containers with clean water
Biting rhythm – biting peaks at change of light intensity (after sunrise and before sunset)
Prefer darker colours like black and red
Can fly short distance (50 – 100m)
HABITAT
Mosquitoes breed in soft, moist soil or stagnant water sources such as storm drains, old tires, children's wading pools and birdbaths.
IMPACT
Mosquitoes spread diseases such as West Nile Virus, malaria and dengue fever.
PREVENTION
Replace all stagnant water at least once a week. • Remove trash from around any standing water.
When sleeping outdoors or in areas where mosquito populations are heavy, surround your bed with "mosquito" netting.
Screen windows, doors and other openings with fine mesh.
Avoid going outdoors at night.